Shiny Monkeyz is now one of the Official Installers of CARPRO Cquartz & Dquartz Ceramic Coating Products.
https://carpro.global/find-your-finest/
CARPRO CQUARTZ LITE
CQ Lite is a user-friendly ceramic coating, which is super easy to apply, even if you have no prior experience.
Lite is based on the incredible CQ.UK Ceramic Coating Technology, which has become famous around the world for its durability and performance.
CQUARTZ Lite can be applied as a standalone ceramic coating lasting over 6 months or it can even serve as a topcoat for existing CQUARTZ coatings.
CARPRO CQUARTZ UK 3.0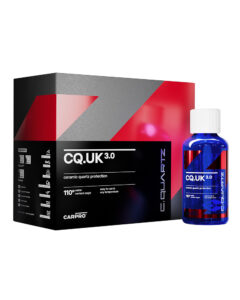 CQ.UK is our most refined consumer-grade coating. As the third iteration of the world-renowned nano-ceramic coat,
it packs the highest performance figures ever, with increased resistance. to salt buildup, chemical resistance of 3-14 pH and extreme temperature tolerance.
As always and as with all our products, we stand by our ethos of under-promising and over-delivering, so    our real-world durability claim for CQ.UK 3.0 is 18-24 months.
PH 3-14 CHEMICAL RESISTANCE
HIGHEST-PERFORMING CONSUMER-GRADE COATING
CARPRO CQUARTZ SIC
To celebrate the end of the decade and ten years of CQUARTZ, we are proud to introduce the next step in evolution.
After intense research, development and testing, CQUARTZ SiC is ready to continue where TiO2 left off.
As the name suggests, this new formula incorporates SiC (Silicon Carbide) for added chemical resistance. We have also greatly improved the ease of use,
resistance to water spotting and even amped up the gloss and depth! Finally, the ridiculous level of slickness will leave you thrilled with the results.
PH 2-13 CHEMICAL RESISTANCE
BETTER RESISTANCE TO WATER SPOTS AND MINERALS
EXTREME SMOOTHNESS AND DEEP GLOSS
CARPRO CQUARTZ PROFESSIONAL
The New 2020 CQUARTZ Professional has been designed for enhanced protection of clear coat painted surfaces as well as plastic components.
The New 2020 Cquartz Professional is an enhanced fast-curing version of the coating already loved by the best professionals.
EXTREME GLOSS
SUPER DURABLE
HIGH DENSITY / ANTI-ABRASIVE
SOLD UNDER CARPRO TERMS TO PROFESSIONALS ONLY
CARPRO CQUARTZ FINEST RESERVE
This next-gen technology utilizes an advanced hybrid nano-structural composition, which bridges the gap between ceramic and organic materials,
creating an extremely high-gloss, dense coat.
Additionally this results in an extremely durable, thick coating with advances in a variety of attributes and unlike anything that has come before it.
With our advanced "SiO2poxi" tech, the new Finest Reserve is extremely resistant to water spots, acids, solvents, ice, oils, dirt, UV, and all manner of environmental attacks.
HIGHLY HYDROPHOBIC
SUPER DURABLE
HIGH DENSITY / ANTI-ABRASIVE
SOLD UNDER CARPRO TERMS TO PROFESSIONALS ONLY
CARPRO DQUARTZ
In the pursuit of perfection, we have developed a truly innovative formula based on a siloxane nano-diamond fusion and a proprietary silicon resin,
which make DQUARTZ the first ever coating to offer mechanical resistance to swirls and scratches.
DQUARTZ can be used as a standalone coating for automotive paint and will produce the same results when used on metals.
Beyond the hardness improvements, it packs strong chemical and environmental resistances, as well as our greatest pride and joy: gloss and self-cleaning.
Nevertheless, during testing we have found DQUARTZ to truly excel as a base coating topped with CQUARTZ Professional,
which increases hardness by an extra point on the pencil scale and brings CQ Professional's outstanding performance into the mix.
The pencil test is a common method to measure the hardness of paints or coatings.
Essentially it checks which standardised graphite (1H, HB, 1B, 2B, etc.) will be hard enough to scratch the surface.
As always, we steer clear of the popular, yet physically impossible claims of extreme Mohs scale hardness, and giving you the real facts.
If your paint has a rating of 1B, DQUARTZ will push it up 5 levels, going as high as 3H. Looking for 'groundbreaking'? This is how it really looks like.
This incredible new technology is enabled by the carefully controlled size and spherical shape of our nano diamond particles in combination with their activated surface structures.
This allows the diamonds to electrostatically bind to the other ingredients of the coating, as well as the surface itself. In essence,
DQUARTZ isn't just a regular ceramic coating with a cool additive known for hardness. Diamonds are an integral part of the DQUARTZ nanostructure.
DQUARTZ is available exclusively to certified installers
INCREASE SURFACE HARDNESS BY UP TO 5 POINTS*
EXTREME ABRASION RESISTANCE
WORKS ON METALS
HIGHLY HYDROPHOBIC
UV & CHEMICAL RESISTANCE
SOLD UNDER CARPRO TERMS TO PROFESSIONALS ONLY
CARPRO CQUARTZ LEATHER 2.0
We are proud to announce CQUARTZ Leather 2.0, which is a natural evolution of the world-renowned leather and vinyl coating – CQ Leather.
The new formula is water-based and therefore safe to use on all types of leather, including Nappa leather.
The new Leather 2.0 only improves on the renown hydrophobic and self-cleaning properties, as well as resistance to UV, denim dye coloring, abrasion and stains.
SELF-CLEANING, HYDROPHOBIC
UV RESISTANT, DENIM DYE COLORING RESISTANT
RESISTANT TO STAINS AND MARKERS
PRESERVES LEATHER COLOR, NO VOC
CARPRO CQUARTZ SKIN
CQUARTZ Skin was developed for application to a wide variety of paint protection films, vinyl films, clear bra, as well as soft and hard plastic trim.
Paint protection films' and plastics' greatest enemy is UV damage, so CQUARTZ Skin was designed from scratch with heavy UV blockers.
With both UVA and UVB resistant particles impregnated into the nano-structure of CQUARTZ Skin,
you can be assured you have provided the best protection possible for your wrapped and plastic surfaces.
UV RESISTANT
FOR GLOSS & MATT FILMS
CARPRO CQUARTZ FABRIC
CQUARTZ Fabric is a dedicated, breathable coating created to protect textiles against liquids, dirt and stains. It does not affect the look, texture,
breathability or color of the fabric and as all CARPRO products, it is very easy to apply.CQUARTZ Fabric can be used on any material and performs great on cabrio soft tops.
It is loved by detailers and sneakerheads alike!
WITHSTAND MECHANICAL WEAR FOR UP TO A YEAR
SUPER-HYDROPHOBIC, UV-PROOF, TRANSPARENT
WATER & STAIN RESISTANT
CARPRO CQUARTZ DLUX
Treat alloy wheels, faded plastic, and rubber trim with CQUARTZ DLUX to restore their rich, glossy finish,
and give them the lasting hydrophobic nanotechnology protection these surfaces deserve. Such surfaces have to withstand a lot of abuse,
so CQUARTZ DLUX was given a thicker film build compared to other CQUARTZ coatings, and a 50% silica content by volume.
RESTORES AND PROTECTS FADED TRIM MAKES WHEELS EASIER TO CLEAN
CARPRO CQUARTZ GLISS
Gliss excels as a top-coat for CQUARTZ coatings, designed to enrich their rugged performance with a stunning level of hyper-slickness, gloss and smoothness.
Utilizing modified long chain carbon fluorine polymers and enhanced nano-technology, Gliss provides increased resistance to static buildup, dust retention,
and many types of mineral deposits and water stains. All this, while keeping it typically easy to apply.
HYPER SLICK AND SMOOTH
ALSO WORKS GREAT AS A STAND-ALONE NANO-COAT
ADDS THICKNESS TO YOUR EXISTING COAT WHEN USED AS A TOP COAT
CARPRO CQUARTZ  FLYBY FORTE
FlyBy FORTE is a brand new technologically advanced windshield coating.
It's extreme hydrophobicity repels rain and reduces the need for wipers at speeds above 30mph, while increased durability,
makes it a long-lasting solution with enhanced glass protection capabilities.
Development of Flyby Forte was heavily based on the latest and most advanced mobile phone anti-scratch protection.
The inorganic nano-tech coating was specifically designed for extrema durability and long-term resistance to abrasion and chemicals.
Flyby FORTE was tested to over 40,000 real time wiper cleaning cycles and proven as UV-stable, highly resistant to chemicals,
and providing resistance to scratches and minor chips. Flyby FORTE is the ultimate windshield and glass coating.
NO DEGRADATION OF GLASS
SLIDE OFF AT 50 KM/H
UP TO 2 YEARS DURABILITY